Saturday,24-July-2021
Posted by longgo at 18:55:27 in Cars
EN
The car in that topic is KIA Ceed model 2014 in case I need to be exact. The issue here was related with the wiper`s arm shaft.
And that is how it look:
Let me explain - the wiper arm move only 110-130° at best. Inside that body, there are two brass bearings on both corners. Due the limited move of the arms between the bearings get moisture and little by little become to rust. Also, because the bearings are made from brass and the shaft is steel with time and wet condition there is boundary oxidation layer.
Anyway the whole unit have to be taken out. And honestly, compared to other car models was not easy. It was extremely easy.
Wiper arms removed follow in that order -> caps out -> 14mm nut out -> a bit of shaking and they are off.
Then, there are few plastic locks with central pin. That one you just push about few mm inside and they are ready to pull.
After removing the plastic cover , found that one:
two bolts on both ends, then pull a bit toward the engine and unclip the motor plug. The unit is out:
Already knowing what was the issue just decide to check over the motor brushes condition: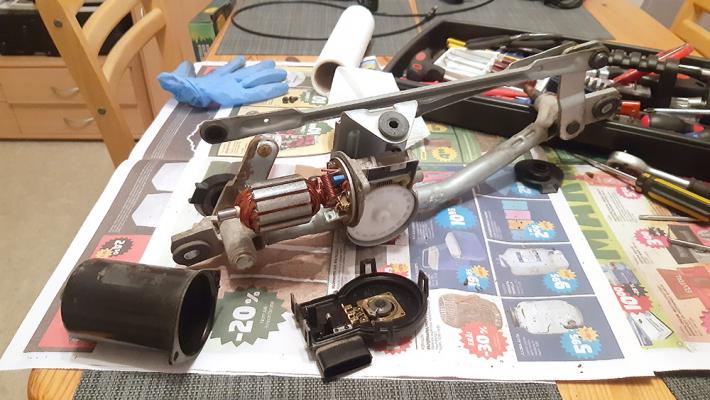 Unfortunately in my case I have to search for spare one arms unit from scrap yard. But here are few tips to check if yours are going on same road:
- when click single wipe with spray it is a bit sluggish
- the faster speed feel not that fast
- after some time the wipers move from the beginning fast and somewhere in the middle slow down a bit
Just in case some summer will be wise to open that place, remove the shaft lock , pull the arm and clean and grease the place again. Actually, I use some hat shrink tube down there to cover it for future and hopefully that issue will not happen again.
If you remove the arm what is connected to the motor shaft, the use my initial photos to align it right. I put it a bit more close to vertical, and then every time I start the wipers they move bit down then up. In more details : motor rotate anticlockwise. The stopping position is all the time same. If you leave it a bit high, when it "crank" first push a "bit" then "pull". In that position it start "pulling" right from the start and that is how should be.
Good luck if you have to do that procedure!