Sunday,21-May-2023
Posted by longgo at 14:20:11 in Cars
EN
That is the article, where will show how I make some small cable work to install SUBWoofer in that particular Hyndai Santa Fe.
The initial investigation show that it will be easy just to drill one small hole, but more on that a bit later.
There is some junction point right below the fuel filter. There is huge hole that one plastic shield cover and bunch of wires goes out of the cabin. That`s good, but unfortunately there is also a rubber that must be drilled, then there is a change that cable goes quite low..
In other words I skipped the idea. Instead I mage one hole myself.
The start was to make the short lead from battery to the fuse:
It is generally important the fuse<->battery connection to be as short as possible. In case there is shortage that there will be no time delay for the fuse to burn.
Something as advice: if you make something similar, use that "snake skin" where ever you use to set up high power wire in the cabin. Unfortunately for me, I didn`t do it based on that rule..
Next I drill some guide holes, so the cable to pass on shortest easy way:
In that model, the intercooler itself lay on sort of frame and for that reason there isnt` any vibration, so nice clean road to use for the cable:
Sure, if need to be removed only two zip ties cut and unscrew the fuse cap. Then cable can be moved free.
The second part after the metal frame also covered with extra plastic shielding. Mainly due the fact there should be some water around during rain.
The hole I did in the plastic frame over the air flap:
It is plastic, so easy to drill and second that will give the chance cable to go straight in right direction. Set and done.
The surrounding was covered with silicon just in case..
Then come the second issue with ground wire. Sure, better to be used short one, but maybe that short. And because that was in the set (on the picture below) I have to find good place for it :
My thoughts where to use seat belt bolt or even seat bolt, but that one seems to be just fine. Only I loose a bit the bolt, and when saw it open with quite a effort, decided to not untight is totally but instead to slice a bit the round ear for the wire and to "pinch" it around. So then over the bolt, just tight it back. Once more, rubber ring for cable to pass through safely.
Cables went under the glove box: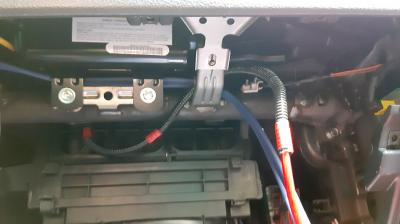 where the last of the set`s shield was used.
Next went under the side frame`s cover, and there actually pass original loom. Thankfully some space was available, so mission went as planned.
Rear door:
Just when I thought that was it, come the issue how the cable will pass in safe way out of the covers. Either to cut "window" or slot, or a bit more invisible way , to cut the mat. As seen from the shot, choose the second option.
And final view:
Amplifier location and arrangement was not may problem..
That was it! Hopefully can be in some help, if you have similar idea of doing the job…